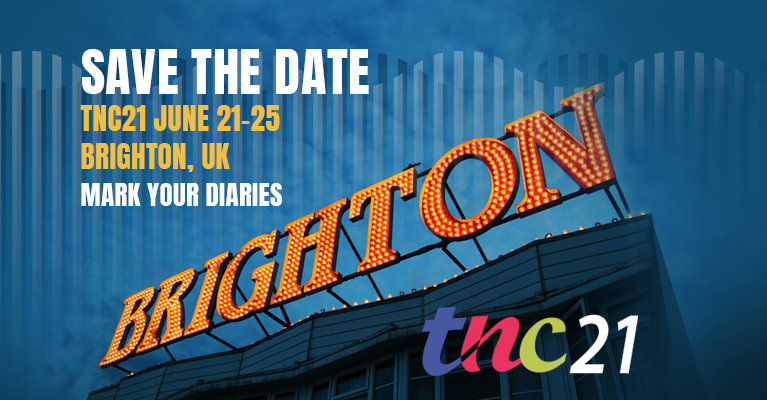 TNC20 is cancelled
We are all learning about the growing severity and impact of the COVID-19 pandemic day by day, not only seeing our daily life changing, but also accepting that plans for much of 2020 are also drastically affected.
It is within this new environment, this new reality where we see borders closing, cities and entire countries in lockdown, and daily applause for our struggling health services, that we need to address our own community plans.
So, what seemed an impossible thought just two weeks ago, turns into an unavoidable reality today. Where social distancing and isolation are the highest form of caring for each other and our community's health, physical conferences can no longer take place. The cancellation of TNC20 seems extraordinary in view of its history (TNC19 was its 35th edition!) but it is the only direction we can take.
Read more here.
TNC20, the 36th edition of the largest and most prestigious European research and education networking conference, will be hosted by Jisc, the United Kingdom's National Research and Education Network organisation, and will be held in Brighton, UK.
TNC brings together decision makers, networking and collaboration specialists, plus identity and access management experts from all major European NRENs, universities, worldwide sister institutions, as well as industry representatives. Through keynotes speeches by renowned specialists, varying parallel sessions and demonstrations, TNC presents participants with a unique overview of the latest developments in research networking, both in the technical field and in the area of application and management.
Opening Call for Proposals
(Single presentation, BoF & Demonstration)
Submission Deadline for Single presentation
Early Bird registration opens
Submission Deadline for BoF and Demonstration
Opening Call for Lightning Talks
Deadline submissions for Call for Lightning Talks
End of Early Bird registration
Submission Deadline for Call for Posters
Online registration closes
TNC20 Organising Committee
Steffie Bosman, GÉANT
Jessie Brockhoff, GÉANT
Conference Communications
Bartek Idzikowski, PSNC
Erik Kikkenborg, NORDUnet
TNC20 Programme Committee
Sabine Jaume, RENATER (CHAIR)
Tom Fryer, GÉANT
Mian Usman, GÉANT
Marina Adomeit, SUNET
Alf Moens, SURFnet
JP Velders, UvA
Nicholas Mbonimpa, RENU
Jie (Jennifer) An, CERnet
Nancy Carter, CANARIE
Ieva Muraskiene, LITNET
Hannah Short, CERN
Leandro Guimaraes, RNP
George Konnis, CYNET
Claudio Allocchio, GARR
Carina Kemp, AARnet
Ann Harding, SWITCH
Maciej Brzezniak, PSNC
Rob Evans, Jisc
Anna Wilson, HEAnet
Paul Dekkers, SURFnet